One of the key components of your Valentine cards is your choice of colours. Red is the colour of passion and love and is therefore perfect for such an occasion. That is why traditionally, Valentines Day cards have been red and white and feature symbols like red roses and red love hearts.
As Valentines Day has extended to include not just lovers, but close friends as well, pink has also begun to feature heavily in Valentines designs. Pink is the colour of affection, sweetness and understand and so is perfect for the expression of friendship.
Pink goes perfectly with red and white to create a beautiful Valentines card.
But, you are not limited to just these colour combinations. You may also like to consider:
Red and gold
Red, white and black
Pink, red and black
Pink and brown or
Red, cream and brown
But don't feel that you have to use red or pink on your cards. Just because a colour is not deemed a "Valentines Day colour," it does not mean you cannot feature it on your card.
For example, you may decide to make a card in your special someone's favourite colours or the colours of his favourite sports team. While these colours are not normally associated with Valentines Day, you can easily make your card look romantic simply by including a love heart or two.
In the end, you can use whatever colours you like for your Valentines Day cards. If you can't decide, think about what your recipient would like the most and go with that!
If you are looking for more
Valentine Card Ideas
,
you might also like this: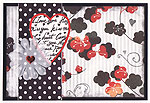 Click Here