Happy Valentines Day! Today is the day – the most romantic day of the year. And I have another wonderful homemade Valentine idea to share with you. This card was created by Heidi Crans, an inspiring crafter from the Netherlands.
Here is her homemade Valentine idea: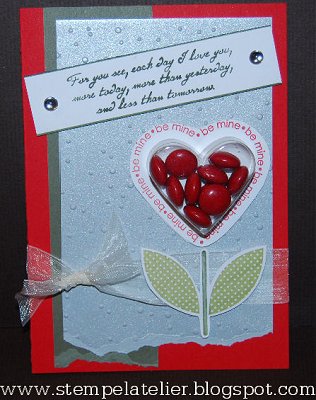 To create this homemade Valentine, Heidi has used red cardstock, grey cardstock, silver cardstock, white cardstock, her Cuttlebug, Stampin' Up stamps, Stampin' Up punch, Stampin' Up Heart Blister and ribbon.
The quote reads: For you see, each day I love you, more today, more than yesterday and less than tomorrow. It's a beautiful quote and perfect for any homemade Valentine ideas. I believe it is originally attributed to Rosemonde Gerard.
My favourite element on this card is the heart Blister from Stampin' Up. It's an ingenious way to feature candies (or any other three-dimensional items) on the front of your card.
I also love the three-dimensional dots on the silver cardstock. So sweet!
Thank you so much Heidi for allowing me to share your homemade Valentine idea. If you would like to see more of Heidi's creations, please visit her blog, Heidi's Art And Crafts. Please also visit Inkerbell Stamps, her own line of stamps.
If you are looking for more
Valentine Card Ideas
,
you might also like this: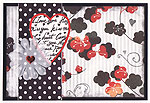 Click Here