Today I wanted to share with you a creative homemade Valentine card by another talented crafter, Danielle Flanders from Upstate NY.
And here it is: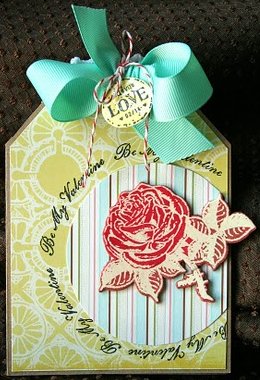 Danielle made this creative homemade Valentine using Websters Sweet As Cherry Pie-Little Nibbles paper and Postcards From Paris – La Boutique De Jardin paper, Tattered Angels embossed chipboard, Candy Apple Red spray, stamps from the Tattered Angels Timeless Romance stamp set and ribbon.
I can't say enough about this homemade Valentine card. I just love it! The gorgeous colours are what attracted me to it at first but there's more to it than that. The use of chipboard gives the card dimension, the ribbons give it texture and the tag shape makes it truly unique.
I also think it's very clever how Danielle has curved the 'Be My Valentine' stamp around her circle. Very effective!
Thanks Danielle for allowing me to share your creative homemade Valentine card. It's truly inspiring. If you would like to see more of Danielle's designs, please visit her blog, Homespun With Heart.
If you are looking for more
Valentine Card Ideas
,
you might also like this: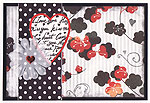 Click Here