Now that Valentines Day is over for another year, you might think that the time for romantic paper crafts has past, at least for now. But think again! Now is the perfect time to scrap all those wonderful photos you took this Valentines Day – photos of you and your loved ones, photos of anywhere special you went or even just a nice photo of you and your special someone together.
This layout features a photo from a very special night out – dinner on the Nepean Belle (a floating restaurant) with my husband.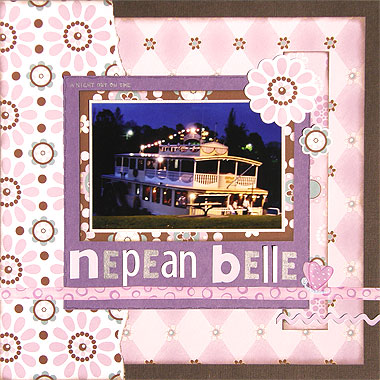 This layout was created using Three Bugs In A Rug papers (Delight Rhapsody paper, Frenzy Rhapsody paper, Rapture Rhapsody paper and Thrill Rhapsody paper), chocolate brown Bazzill cardstock for the background, purple cardstock, cream cardstock for the photo mat, brown ink, purple alphabet stickers, white alphabet stickers, a black pen, a silver pen, a purple ric rac sticker (you could use a piece of ric rac), Creative Imaginations Love Borders stickers (a pink ribbon would do) and Creative Imaginations Love stickers (for the butterfly).
Not all Valentines Day layouts have to be lovey dovey or done in red and white. As you can see, this layout is predominantly purple white a touch of brown, pink and green. And, it's not covered in hearts and images of cupid. Instead, there is a subtle butterfly with heart-shaped wings. It's a nice understated way of featuring a romantic theme without going overboard.
Of course, this is just one idea of how you might scrap a special night out. What you choose to do is completely up to you. Just have some fun and remember, the important thing is to preserve your memories and photos so when you look back on your layout in years to come, you'll remember what a wonderful time you had!