Finding inspiration to create your own Valentine card ideas can sometimes be a little bit of a challenge. I know! I've spent hours and hours surfing the net, scouring online card galleries and websites trying to find that perfect valentines card idea…and then when I finally find something I like, I pull my hair out trying to figure out how to recreate it without any instructions and with completely different papers and embellishments.
It's not an easy task! I love making my own cards, but it can be a little frustrating at times. I'm not Picasso or Rembrandt. Trying to be creative at the drop of a hat is difficult.
But, I have found the solution!
If you are looking for Valentines Day card ideas, you need to see this…the 'Inspired Card Making Report.'
It's completely free!
You can download it at:
http://CardMakingClassroom.com/inspired
It features invaluable insight into how to stay inspired so you can create (and be proud of!) all the cards you want, no matter what the occasion or theme. Plus, there are plenty of examples to help get you started.
It's perfect for creating your own Valentine card ideas.
I made this cute card based on an example in the free report.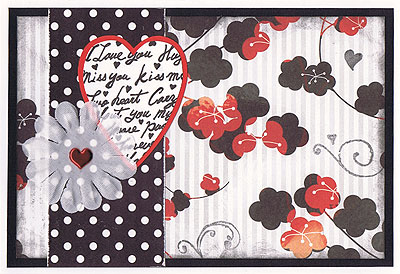 To create this card, I used white cardstock, black cardstock, red cardstock, Kaisercraft Sakura Park Kanzan paper, Black Polka Dot paper (brand unknown), black ink, a black pen, Heart Words stamp (brand unknown), Basic Grey Swirl stamps, white Bazzill flower and a red heart brad.
I followed the step-by-step instructions in the 'Inspired Card Making Report,' substituted the card making supplies I wanted to use and tweaked the design as I wanted.
For example, there were a few 'white spaces' on my background paper that I wasn't really too pleased about, so I filled them by stamping some swirls and heart images. They look like they are part of the patterned paper, but they give my card a more Valentines Day sort of feel.
I also inked around the edges of my background paper to give it a warmer, more sophisticated feel.
The instructions in the report made it really easy to personalise my Valentines Day card so it really is my own creation. Plus it was quick to put together and a lot of fun.
I'll definitely be making more cards this way!
If you are looking for Valentine card ideas, I highly recommend you download your free copy of 'Inspired Card Making' today.
Click Here To Get Inspired Card Making Now.