Making a Valentine card can be a lot of fun but it's not always easy to find unique and inspiring ideas! That's why today I am thrilled to share with you an absolutely beautiful Valentine card by Melissa Phillips. It's just stunning!
If you're thinking of making a Valentine card, you really need to see this: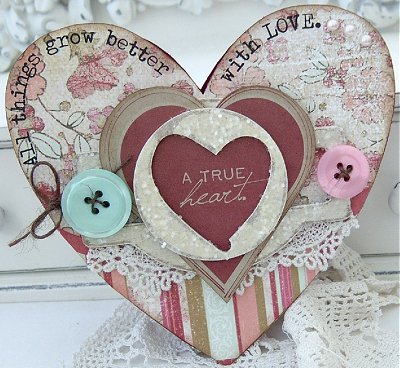 To make this Valentine card, Melissa has used Fancy Pants Vintage Valentine paper, goodies from Maya Road and Prima, Glimmer Misted doilies, rub-ons and assorted trims and embellishments.
When making a Valentine card I always try to do something different. I love how Melissa has used a heart shape as her base card and then layered papers, embellishments and more hearts on top of it. The doilies and thread really give it a heart-warming feel too! And the buttons are so cute!
I really am in love with this card. But, it's not the only one Melissa has made. If you are thinking of making a Valentine card and want to see more of her creations, please visit her blog, Lily Bean Paperie. Thanks so much for sharing Melissa!