There's something really heart-warming about receiving handmade Valentine cards. It just makes you feel a little bit extra special knowing that someone has taken the time to make something just for you.
That's why I go out of my way to hand make cards for the people in my life that mean so much to me. I want them to know how special they are.
But it can be a challenge to create something that I feel is good enough. I know my recipients are going to keep my card indefinitely (probably forever) so it needs to be sensational! I don't want to give them something I'm not proud of.
There are lots of beautiful handmade Valentine cards online, but I don't like to copy anything exactly. Apart from the fact that some designs are just too difficult to figure out and that I probably don't have the supplies they used anyway, I like the idea of personalising my cards so they are completely unique creations.
So I look for ideas that can be easily adapted to suit me.
For example, this is a birthday card I made: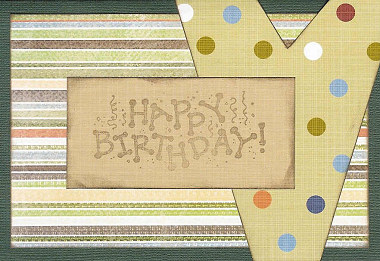 It's stylish. It's very easy to make. And, it can really be adapted to suit any theme. Change the colours to pink, yellow and white, replace the message with "It's A Girl" and you have a sweet Baby Girl card.
Or, you can adapt the design to create your own handmade Valentine cards!
For example, instead of a green card as the background, you may instead use black. You could then replace the striped paper with a red patterned paper and the dots paper with a pink patterned paper. Finally, you could stamp the message "I Love You" or "Happy Valentines Day" on a piece of white cardstock and place it in the centre of your card.
And voila! This birthday card has suddenly become your own unique handmade Valentine card!
In order to adapt one card design to a fresh new design, you have to break it down into its components. That way you can figure out what supplies you will need and how to put them together to create your card.
This is the idea behind card making sketches. Sketches show you the different elements that make up a card and how to assemble them to create your final design.
For example, the sketch for the card above would look like this: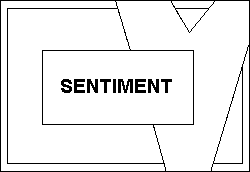 The sketch shows the base card, the background rectangle, the heart shape and the sentiment all laid out for you so you can see how to design your card. It's just up to you to select your theme and colours. What could be easier!
You can find more card making sketches (as well as full instructions on how to create your handmade cards) in 50 Card Making Sketches.
It's the ultimate card making sketches resource featuring 50 unique card sketches and lots of examples of how to adapt them to suit your card making projects. It makes creating beautiful cards you can be proud of so easy and so much fun.
To get your copy today, go to:
http://50CardMakingSketches.com